Comber Rec FC and the Adam Cowdy Tournament 2014

Coach Danny Gourley from Comber Rec Youth and club Vice-Chairman Freddie Dines made a presentation to the Association for Spina Bifida & Hydrocephalus N.I. recently as a result of the Adam Cowdy youth football tournament organised by Danny during the summer. Also included in the photograph is Elish and Michael Briggs from ASBH.
.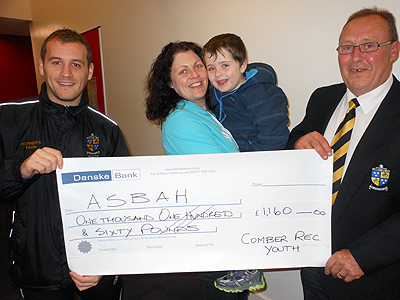 Intermediate Cup

Comber Rec have drawn Tobermore Utd away in the next round of the Intermediate Cup. The fixture is to be played on Saturday 13 December with a 1.30 ko.

Fair in the Square

We are providing a stall in Comber's Fair in the Square on Thursday night 27 November. This has been a great success over the last number of years purely down to the support we have received from members and friends providing goods for the stall and the generosity of those buying from us on the night. Could we again ask for cakes, bread, buns, tray bakes etc to be brought down to our club on either the night before (Wed 26 November) between 6.30pm - 8pm) or on the day of the sale between 1.30pm - 3pm.
We are very appreciative of any provision that may be offered and we look forward to seeing as many as possible buy from us on the night.

We would also ask for as many volunteers as possible from each of our sections to help man the stall in order that we all have a chance to enjoy the occasion. Would volunteers for this task please give their names to D Browne or your section representative along with a time that they might be available.

Thanks
David Browne

Awards

October player awards Click here

Enler Delta Blues Club

This Saturday (15th Nov) at Enler Delta Blues Club we have the fantastic SOUNDBITES from Co. Monaghan. The SOUNDBITES are a very popular band at the club and are in great demand throughout Ireland. Come along and bring those dancing shoes for what is guaranteed to be a great night. Doors 8pm music 9.30 - 1. £5.

Sunday Blues Jam. Free entry for all the family. 3 - 6.

N.B. The ILLEGALS are completely SOLD OUT and there are NO tickets left for sale at the door on the night!

Condolences

It is with deep regret that we have been made aware of the sudden death of the father of Liam Judge. Liam's father has been a regular visitor to our club this season and we shall miss his company and support. Our club would wish to pass on it's sincere condolences to the family at this tragic time.

D Browne
Chairman

Player of the Month Sponsor



Comber Recís sponsor for player of the month for season 2014-2015: Mr Philip Davidson, One Stop Mortgage Shops, Newtownards with management team, Graham and Phil McDonagh.

Enler Delta BLUES Club

Ever wanted to dance PROPER????
Christmas Do?? Donít be the Elf on the Shelf!! Birthday Party?? Donít be the Wallflower!!
Modern Jive is a dance form that can be used to dance to any kind of music, so if you are a Country Cousin, a Rockiní Rooster, a Blues Brother or a Pop Purest then this is the dance style for you!! No partner required.
Just turn up!!
So where can you learn to dance yourself dizzy??
Every Tuesday evening at 8:00 pm in Comber Rec Football Club
Cost £5.00.
Taught by the Fabulous DR Jive
Contact Diane or Roy:
0775 2431862 or 0783 0154376
Danny Bryant

As you may well know Danny Bryant and The Red Eye Band were meant to play the Enler Delta Blues club in November, however due to commitments in Dublin, Dundalk and an earlier date at the Royal Albert Hall, Danny is unable to make it to the Enler. However there is always next year and we do hope to make this happen sooner rather than later.

Please see short bio below on Danny who happens to be married to local Comber lass Kirby Morrow. Kirby has also been responsible for some major fund raising for the great Walter Trout who has played Belfast on a number of occasions, the latest being last year at the Empire prior to being taken seriously ill and requiring a liver transplant .

As a favour to Kirby and Danny, both myself and Norman agreed to advertise Danny's up and coming gig at the Empire on Friday 7th November and it is sure to be a belter of a gig too. Hope to see you all there and if not then maybe next time when Danny hopefully will be appearing at the Enler!
See You soon.

Comber Rec V's Immaculata
29/11/2014 KO 2:00pm
Home
League
Latest Fixtures

Seconds

v's

-

()
Under 17s

v's

Brynsburn U17

-

29/11/2014
(A)
Under 14s

v's

Bangor Rangers

-

29/11/2014
(A)
Under 13s

v's

Carnmoney Colts

-

29/11/2014
(A)
Under 12s

v's

Free Week

-

29/11/2014
()
Ladies

v's

-

()
Latest Results

22/11/2014
Firsts
4

-

2
Lisburn Rangers
22/11/2014
Seconds
9

-

0
Dunmurry Rec
22/11/2014
Under 17s
4

-

2
Barn Utd
22/11/2014
Under 14s
2

-

2
Ballywalter
22/11/2014
Under 13s
9

-

0
Bangor FC
25/10/2014
Under 12s
1

-

3
Castle Juniors
27/08/2014
Ladies
5

-

0
Fermanagh Mallards
Club Goal Scorers-Top 5 (Overall)

Player
Goals
| | |
| --- | --- |
| Lindsay Johnston | 16 |






There are currently 3 Users Online