Christmas at 'The Rec'

There's plenty of entertainment organised for Park Way this Christmas period. It kicks off on Christmas Eve with a family sing-a-long from 4pm to 8pm just to get you in the 'spirit'. This has been a really enjoyable gig this last few years when you can ask others how to assemble the latest gadgets!

Saturday 27 December sees the club host two South Belfast Youth League cup finals. The u17 final kicks off at 10am with the u14 final, involving our own Comber Rec team due to start at 12.45. Please come down and support them.

Then on Saturday night 27 December 'Who's to Know' visits the club, one of the best Who tribute bands around. A great way to burn off the turkey.

New Year's Eve then quickly follows with tickets available for only £10. We have again secured the talented Jimmy Black. You can book your tickets through the club bar or by contacting any committee member.

We would take this opportunity to wish all our players, managers, coaches, assistants, supporters and friends a very Happy Christmas and Peaceful New Year.

David Browne

Delta Blues

This weekend is party weekend at Enler Delta Blues Club with the brilliant Blues Direct taking to the stage on Saturday night to rock the Rec to its rafters. Get the Christmas shopping finished early and head on down to our Annual Xmas Blues Bash for what is sure to be a "cracker of a night".
Doors 8pm and dancin' tillate!

Sunday Blues Jam as usual led by Blues Direct with a few special guests. Free Family day out. 3 - 6.

Christmas Eve local Blues superstar Mark Braidner will perform in his unique style. Free entry 4 - 8.

Next Saturday 27th December is our last gig of the year with Who's to Know (WHO Tribute). Some excellent bands already lined up to and including April 2015 and indeed Mini Fest also taking shape.

Best wishes for Christmas and a happy and peaceful New Year to one and all. Lastly but not least many thanks for your continued support throughout the years, as without you this music venue would not be able to continue, therefore many, many thanks once again!

Please remember this, the Blues is not about feeling bad; it's about making other people feel worse than you do!



Awards

November player awards - Click here

Ladies Bicycle

Anyone looking for a smashing 16 gear, brand new ladies bicycle for Christmas. This one has been donated to the club. It retails online at £175. Anyone wishing to make a good offer on it should contact Ian McKnight urgently as interest should be keen. Phone 07817221817.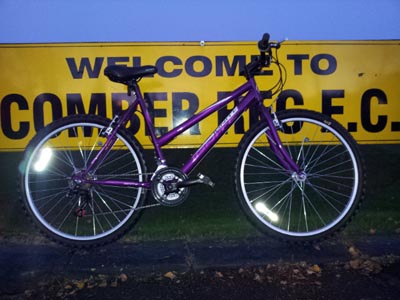 First Team Squad

This season's first team squad photo >>>> Click here <<<<

Fair in the Square

Many thanks to all who supported our stall at the Christmas Fair in the Square. The contributions from players, supporters and friends were very generous and we appreciate all those who visited the stall and bought from it. We would also thank those who volunteered to 'man' the stall for the duration of the event. Teamwork is hard to beat when it pulls in the same direction.

David Browne

Comber Rec FC and the Adam Cowdy Tournament 2014

Coach Danny Gourley from Comber Rec Youth and club Vice-Chairman Freddie Dines made a presentation to the Association for Spina Bifida & Hydrocephalus N.I. recently as a result of the Adam Cowdy youth football tournament organised by Danny during the summer. Also included in the photograph is Elish and Michael Briggs from ASBH.
.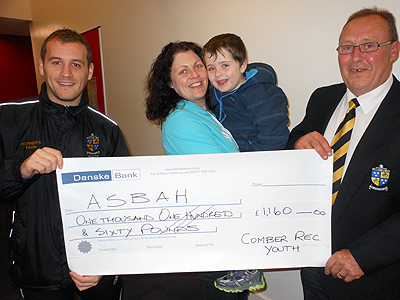 Intermediate Cup

Comber Rec have drawn Tobermore Utd away in the next round of the Intermediate Cup. The fixture is to be played on Saturday 13 December with a 1.30 ko.

Ford V's Comber Rec
03/01/2015 KO 1:30pm
Away
Clarence Cup
Latest Fixtures

Seconds

v's

-

()
Under 17s

v's

Free Week

-

20/12/2014
()
Under 14s

v's

Carrick Colts

-

19/12/2014
(A)
Under 13s

v's

-

()
Under 12s

v's

Free Week

-

29/11/2014
()
Ladies

v's

-

()
Latest Results

20/12/2014
Firsts
2

-

6
Islandmagee
13/12/2014
Seconds
2

-

0
Barn Utd Iis
06/12/2014
Under 17s
0

-

4
Hollywood
06/12/2014
Under 14s
3

-

2
East Belfast
20/12/2014
Under 13s
3

-

2
Springfield Stars
25/10/2014
Under 12s
1

-

3
Castle Juniors
27/08/2014
Ladies
5

-

0
Fermanagh Mallards
Club Goal Scorers-Top 5 (Overall)

Player
Goals
| | |
| --- | --- |
| Lindsay Johnston | 16 |



There are currently 1 Users Online