65th Dinner

I would like to thank David Browne, Jackie Rodgers, Ian McKnight, Drew Davidson, Winston Kerr, Jackie McArthur, Amy Glass and Denis Nash for all there hard work in making our dinner a great success also Roy and Noel Spence for their help.
On behalf of our club thanks to all our VIPS and guests our MC Denis Nash., After-dinner speaker Adrian Logan and all who supported us especially some who travelled from far i.e. Derek Watson from Thailand and Len Young from Turkey.
We as a club were delighted to hand over a small gift to our General Manager Lewis Dempster for his 65 years service as a player and member.
If it had not been for Lewis and a few of his friends there may never have been a Comber Rec.
Thanks Everyone
Sammy Haskins
Chairman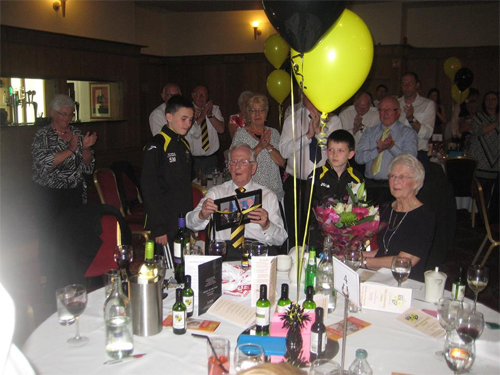 Youth Awards

The youth teams held their annual end-of-season awards at the clubhouse on Friday night. More photos and details to follow.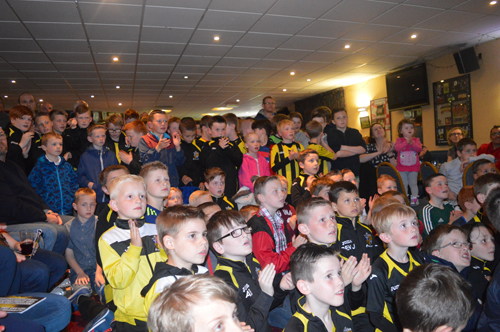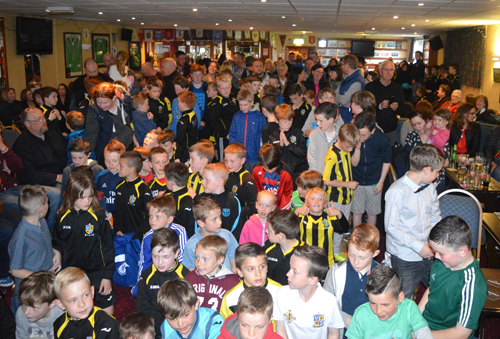 Club AGM

To; All Honorary, Ordinay Life, Ordinary and Season Ticket Members

Dear Member,

The club's AGM will take place in the clubrooms on Thursday 26th May 2016 at 8. 00pm.

Agenda;

Apologies.

Chairman's remarks.

Minutes of last year's AGM.

Secretary's report.

Treasurer's report.

Election of officers.

Election of committee members (7 members to be elected).

Election of club captain.

A.O.B.

Jackie McArthur.
Secretary.

End of Season Player Awards

Winners - Click here

Prize Night - Click here

Sympathy

The members of Comber Rec supporters club are sorry to learn of the death of our member Billy Hollands Mother In Law.
Our deepest sympathy to Billy and the family circle.
Drew Davidson Chairman Supporters Club

Anniversary dinner

Another couple of auction items. The Irish League winners, Crusaders shirt, fully autographed along with the Irish Cup finalists Linfield both provided by the respective managers. Anyone not attending the dinner can place a reserved bid with any member of the organising committee. (Amy Glass, Sam Haskins, Jackie McArthur, Drew Davidson, Ian McKnight, David Browne)
Bids have already been placed on the Manchester Utd shirt and Rory McIlroy signed photograph.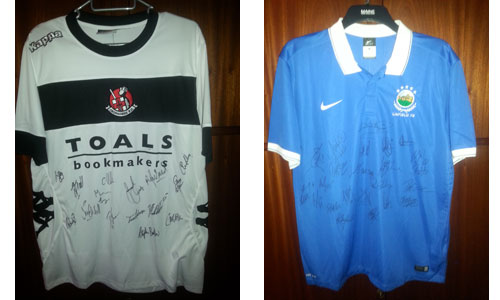 Another package for the auction donated by Carl Frampton which we are very grateful for. Get you bids in!!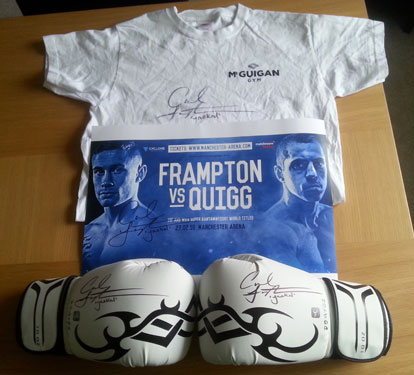 Sympathy

We would like to send our deepest sympathy to member Sam Hiles and the family circle on the sad death of his mother in law.
Our thoughts are with the family at this sad time.
Chairman, Sammy Haskins

Anniversary Dinner

Our Big Night out is only a couple of weeks away. Many of you going will also know that it's the FA Cup Final which this year kicks off at 17.30. We have been speaking with La Mon with regards to this and they have agreed to put back the time of the dinner to accommodate those who wish to watch the game. We shall be called into the function room now at 19.30 for a 19.45 serving. The game shall be shown on the hotel screens in the bar areas for those who wish to settle in for what should be a great night, especially for our General Manager, Lewis Dempster, who is completing 65 years with our club. Please pass this on to others who you know are attending.
There are still some places available. Contact David Browne 07850380838 should you wish to join us. Everyone should have been contacted by their table 'heads' with regards to their choice of main course. If you haven't, please contact him immediately as the order must be placed with the hotel 10 days before the function.
All ticket money should also be paid before the function. Cheques to be made out to Comber Rec F.C. There shall be a His & Hers ballot on the night with some fantastic prizes. The auction should be of great interest to all sports enthusiasts and Adrian Logan should be extremely entertaining. Mr Dennis Nash shall be our compère and continuity announcer for the night. If you are unable to attend and would wish to place a bid on any of the items which shall be listed in the next few days on this website, contact any member of the organising committee with your bid. The names shall be listed with the items. Other than this, speak to anyone who you know is going and ask them to bid for you. We look forward to seeing you all on the night of the 21st.

David Browne




Amateur League - Division 1A

V
Player

Goals
| | |
| --- | --- |
| McKinney | 23 |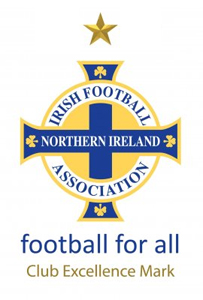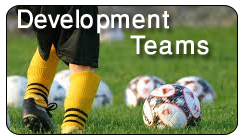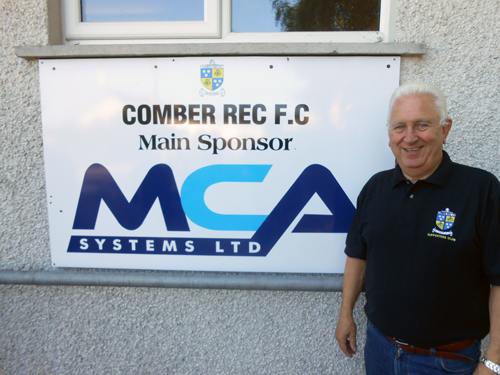 There are currently 1 Users Online