Enler Delta BLUES Club

Ever wanted to dance PROPER????
Christmas Do?? Donít be the Elf on the Shelf!! Birthday Party?? Donít be the Wallflower!!
Modern Jive is a dance form that can be used to dance to any kind of music, so if you are a Country Cousin, a Rockiní Rooster, a Blues Brother or a Pop Purest then this is the dance style for you!! No partner required.
Just turn up!!
So where can you learn to dance yourself dizzy??
Every Tuesday evening at 8:00 pm in Comber Rec Football Club
Cost £5.00.
Taught by the Fabulous DR Jive
Contact Diane or Roy:
0775 2431862 or 0783 0154376
Danny Bryant

As you may well know Danny Bryant and The Red Eye Band were meant to play the Enler Delta Blues club in November, however due to commitments in Dublin, Dundalk and an earlier date at the Royal Albert Hall, Danny is unable to make it to the Enler. However there is always next year and we do hope to make this happen sooner rather than later.

Please see short bio below on Danny who happens to be married to local Comber lass Kirby Morrow. Kirby has also been responsible for some major fund raising for the great Walter Trout who has played Belfast on a number of occasions, the latest being last year at the Empire prior to being taken seriously ill and requiring a liver transplant .

As a favour to Kirby and Danny, both myself and Norman agreed to advertise Danny's up and coming gig at the Empire on Friday 7th November and it is sure to be a belter of a gig too. Hope to see you all there and if not then maybe next time when Danny hopefully will be appearing at the Enler!
See You soon.

Intermediate Cup 2nd round draw

Sat 22 November

Lisburn Rangers v Comber Rec

New Vice-Presidents at Comber Rec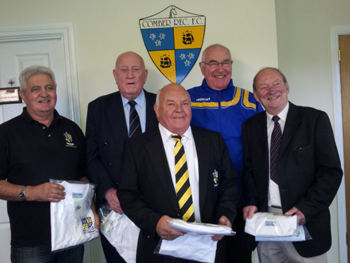 Comber Rec are delighted to announce the election of new vice-Presidents at Park Way. Long time members and supporters Jack Johnston, Norman Scates, Bobby McGorman and Willie Watterson accepted the offer of election recently as a sign of appreciation from the club. 'Big Jack' has been a previous Chairman of our club, 'Scatsey' is part of the furniture and has probably made most of it, 'Root' has produced many tears (of laughter) at the club after a long playing career in his younger days and Willie has been a huge but quiet supporter for many years. Thank you gentlemen and we look forward to your continued involvement with Comber Rec. Our photograph shows Bobby, Jack, Norman and Willie along with President Derek Lowry.

Photographs

September's set of player awards / Sponsors- Click here

Club Captain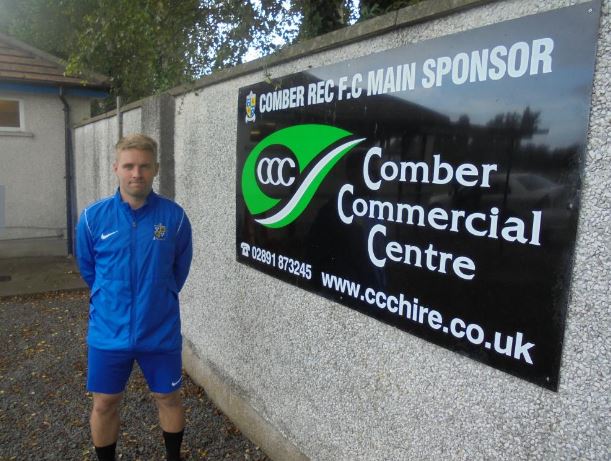 Comber Rec are delighted to announce that Brent Reid has agreed to fulfil the position of Club Captain for this season. Brent joined our club as a 15 year old and has been a faithful servant of the club ever since. He has played from youth level through to 1st team accepting dissapointments along the line without question and is a worthy club member to hold this position. We wish him well as we're confident he shall completely immerse himself in this roll.

Supporters Club

The supporters club are running a dance on Saturday 1st November with top act RJ Rocks singing the hits from the 80s.

Tickets are now on sale.

Contact Ian McKnight or Ian Davis £6.

Photographs

Lastest set of club photographs- Click here

Comber Rec Ladies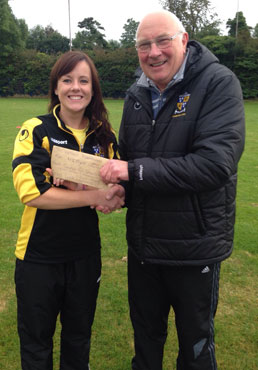 Robert McCracken presents £100 sponsorship money to Victoria Wightman for her chosen charity - "Northern Ireland Youth Association " ahead of her participation in the Berlin Marathon this Sunday (28th September 2014.)
Good luck Victoria from all at Comber Rec Ladies.

Comber Rec V's Killyleagh YC
01/11/2014 KO 2:00pm
Home
League
Latest Fixtures

Seconds

v's

-

()
Under 17s

v's

Albert Foundry

-

01/11/2014
(A)
Under 14s

v's

Hollywood

-

01/11/2014
(A)
Under 13s

v's

Antrim Rovers

-

01/11/2014
(A)
Under 12s

v's

Free Week

-

01/11/2014
()
Ladies

v's

-

()
Latest Results

25/10/2014
Firsts
3

-

1
Institute Res
25/10/2014
Seconds
2

-

2
Suffolk
11/10/2014
Under 14s
0

-

1
St Mary's
27/08/2014
Ladies
5

-

0
Fermanagh Mallards
Club Goal Scorers-Top 5 (Overall)

Player
Goals
| | |
| --- | --- |
| Lindsay Johnston | 16 |



Artist

Cost

The 'T' means ticketed gig




There are currently 5 Users Online