AGM

All Honorary, Ordinay Life, Ordinary and Season Ticket Members

The club's AGM will take place in the clubrooms on Tuesday 19th May 2015 at 8. 00pm.

Northern Ireland v Estonia

Once again I wish to congratulate and thank all those who made the recent Youth International a huge success. Spectators and teams were quick to pass very favourable comments as to how our club staged and managed the event with our visitors from Estonia impressed with the involvement of the whole club and the friendly reception they received. Mr Lars Hopp, the head of the Estonian delegation, enjoyed himself so much, despite the match result, that he, along with Bob Nesbitt, put in an appearance at our end of season awards night and again enjoyed the company of those present.

The result was very satisfying for David Healy and his young internationals and we look forward to perhaps seeing them again at Park Way. As ever, David took time for photographs with all those who approached him and this was greatly appreciated. We wish him well in his future coaching career.

We trust the Estonians enjoyed their first trip to Comber and look forward to accommodating them again soon. We wish them well for the remainder of their trip and a safe journey home.

Thanks again to all those who helped not just on the day of the fixture, but also for the preparation in the days leading up to it.

David Browne

Comber Rec 2nds remaining fixtures:

Saturday 2nd May @ 2pm - Home v Rosario

Tuesday 5th May @ 6.45pm - Home v Derriaghy CC

All support welcome

March Awards

Latest set of player awards - Click here

End of Season Awards Night

Our End of Season Awards Night is scheduled for Friday 8 May in the clubrooms, Park Way, at 7.30pm. Would all players and officials from our senior teams and coaches and officials from our Youth and Ladies sections who intend joining us on the night, please give their names and numbers to David Browne before 1st May to assist with catering arrangements. This invitation is also open to members of our supporters club. Tickets are priced at £5 each with the evening's itinerary of presentations 7.30pm, buffet 9.00pm and entertainment from 10pm onwards.

David Browne

Abbie Magee and Stacey Bryce

All the players and coaches wish Under 14's Abbie Magee and Comber Rec Ladies new signing Stacey Bryce the very best of luck on their selection and trip with the Northern Ireland u16 squad to the Faroe Islands.

A great achievement for both girls and nice to have Comber Rec players recognised for international representation!

Charity Event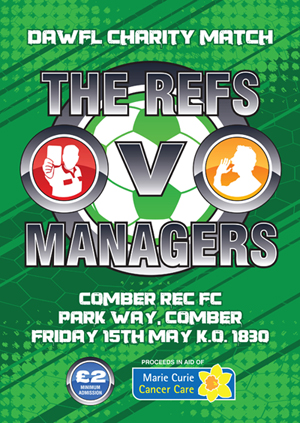 Date Change

Please note that the "Day At The Races" originally scheduled for Saturday afternoon 18th April is now moved to Saturday 25th April.

Latest Results

25/04/2015
Firsts
0

-

1
Ards Rangers
05/05/2015
Seconds
6

-

3
Derriaghy 2nds
27/04/2015
Under 17s
1

-

1
Albert Foundry
20/04/2015
Under 14s
3

-

1
CDFC
02/05/2015
Under 13s
3

-

2
Springfield Star
25/04/2015
Under 12s
4

-

1
Carnmoney Colts
13/05/2015
Ladies
5

-

0
Banbridge Town Ladies
Club Goal Scorers-Top 5 (Overall)

Player
Goals
| | |
| --- | --- |
| Sam Presho | 25 |



There are currently 4 Users Online