Photographs

September's set of player awards / Sponsors- Click here

Club Captain

Comber Rec are delighted to announce that Brent Reid has agreed to fulfil the position of Club Captain for this season. Brent joined our club as a 15 year old and has been a faithful servant of the club ever since. He has played from youth level through to 1st team accepting dissapointments along the line without question and is a worthy club member to hold this position. We wish him well as we're confident he shall completely immerse himself in this roll.

Supporters Club

The supporters club are running a dance on Saturday 1st November with top act RJ Rocks singing the hits from the 80s.

Tickets are now on sale.

Contact Ian McKnight or Ian Davis £6.

Photographs

Lastest set of club photographs- Click here

Comber Rec Ladies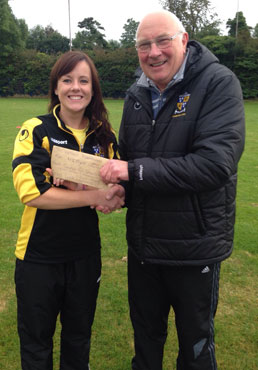 Robert McCracken presents £100 sponsorship money to Victoria Wightman for her chosen charity - "Northern Ireland Youth Association " ahead of her participation in the Berlin Marathon this Sunday (28th September 2014.)
Good luck Victoria from all at Comber Rec Ladies.

Get Well Soon

On behalf of Comber Rec and Comber Rec Supporters Club we would like to wish Willy Keyes a speedy recovery and hope it won't be long untill we see him back down at Park Way.

Invitation International at Park Way

Many thanks to all those who assisted in any way at the recent Youth International hosted at our ground. The officials connected with both The IFA and Finland commented on how well the facility was presented, especially the playing surface. Jackie McArthur, our grounds man, deserves most credit for the preparation of the pitch, but thanks must also be expressed to those who worked around the Park prior to match day as well as those who attended to the hospitality, car parking, changing rooms and general clearing up after the event. This was remarked upon by a number of visitors.

Our two mascots, Kobey Brady and James Millership, performed their tasks very well and the ball boys from our u13 squad kept the game moving at all times making the whole event very professional. Mark Brady and Ivan Ward's squad entertained the crowd royally at half time with their mini-soccer match, making it a good day for Comber Rec FC despite the result in favour of the visiting Finland team, "the best they have produced in the last 10 years" according to one IFA official.

Congratulations also to Comber referee Shane Andrews who officiated over the match and had a very good game.

David Browne
Chairman

Champions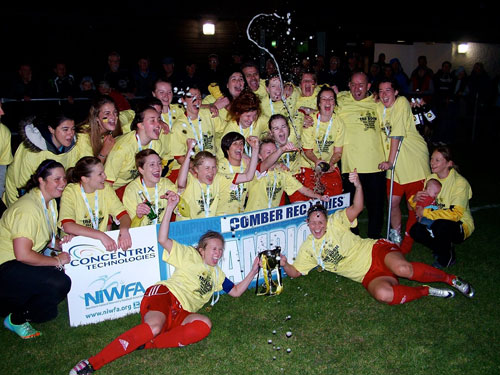 Concentrix Division 3 CHAMPIONS 2014

Comber Rec V's Institute Res
25/10/2014 KO 1:30pm
Home
Intermediate Cup
Latest Fixtures

Seconds

v's

-

()
Under 17s

v's

St Teresa's

-

25/10/2014
(A)
Under 14s

v's

Hillsborough F.C.

-

25/10/2014
(A)
Under 13s

v's

Lisburn Rangers

-

25/10/2014
(H)
Under 12s

v's

Castle Juniors

-

25/10/2014
(H)
Ladies

v's

-

()
Latest Results

18/10/2014
Firsts
0

-

0
Ardglass
18/10/2014
Seconds
3

-

0
Killyleagh YC
04/10/2014
Under 17s
3

-

5
Rosario
11/10/2014
Under 14s
0

-

1
St Mary's
18/10/2014
Under 13s
6

-

0
Larne Youth
18/10/2014
Under 12s
2

-

1
Eddie Irvine
27/08/2014
Ladies
5

-

0
Fermanagh Mallards
Club Goal Scorers-Top 5 (Overall)

Player
Goals
| | |
| --- | --- |
| Lindsay Johnston | 16 |



Artist

Cost

29/03/2014

Dana Dixon Blues Band

£7

05/04/2014

Cold Comfort

£5

19/04/2014

Mighty Mojos

£5

05/05/2014

Morgan O'Kane (USA)

£6T

17/05/2014

Chaz De Paulo Band (USA)

£6T

07/07/2014

Bob Wayne Band (USA)

£6T

12/07/2014

JP Mac Band Johnny Cash

£12T

The 'T' means ticketed gig




There are currently 12 Users Online