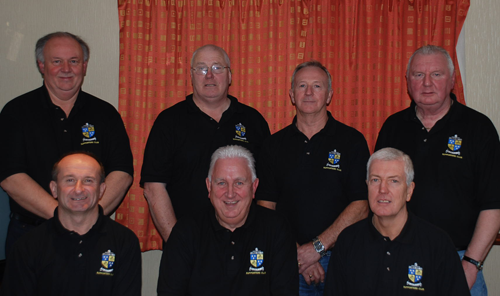 New committee. Back Row Drew Davidson (Chairman), Karl Adair, Ken McBriar, Ian Davies (Sec.), Front Row Norman Mawhinney (V / Chairman) Jackie Rodgers, Ian McKnight (Treasurer).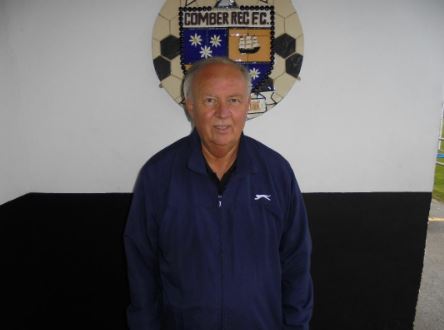 As chairman of the supporters club for season 15/16 I must stress that ALL SUPPORTERS must get behind the players and management of the 1st team at all matches home and away.
We have the biggest and the best membership of 50 plus and growing. I am also pleased to say hard working members.
We are all looking forward to a successful seasons lets be part of that in a positive way.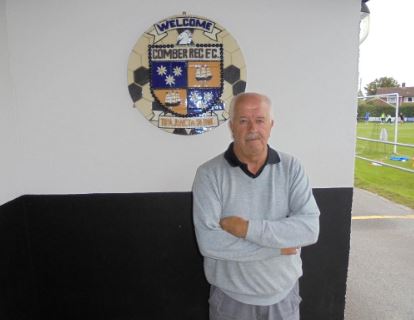 Ian McKnight Sam Hiles & Ken McBriar
We are known for our top quality burgers & tea during matches This season we have purchased a new B B Q to make sure all supporters home or away are happy At times we don't see much of the games but we hope everyone enjoys our service and comes back for more.
Head Chef,
Ian McKnight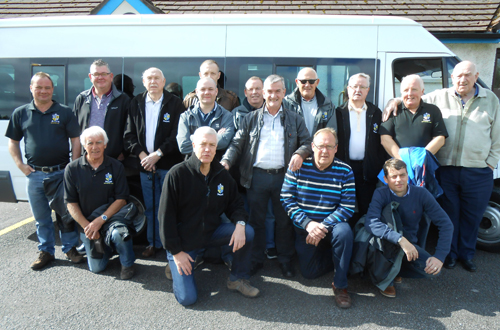 Some of our loyal supporters heading to an away game.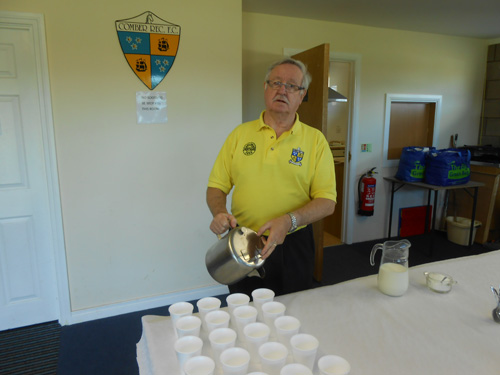 I have been a member of the supporters club for many years and part of my tasks on a Saturday is to make sure our sponsors enjoy a nice cup of tea at half time After the game the kettles on again for the players of both sides and the referee
With the help from other members who supply the sandwiches and after the dishes are washed its clean up time in the dressing rooms then into the club for a little refreshment
I enjoy the crack and my tea must be ok because I never have to many complaints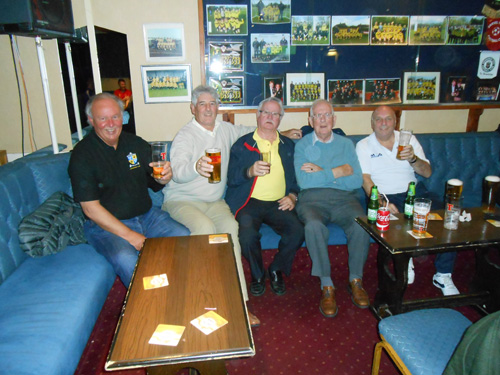 Former player Len Young now living in Turkey was at our game against Downpatrick in the Border Cup and joined old friends for a few drinks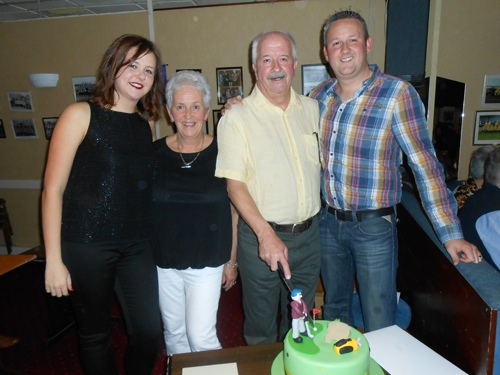 David Carse recently celebrated his 65 birthday at the Rec with family and friends
David is our league rep and has been a member of the club for many years
Our photo shows David with his wife and family and to make it really special David and Isobel became Grandparents that week for the first time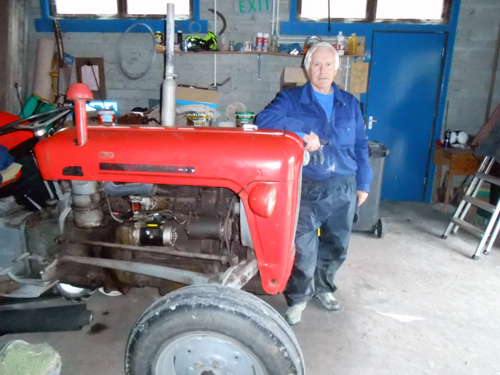 Jackie McArthur has been secretary of the club for over 45 years. In his playing years he was a reliable left back playing for all four teams.
He is now head groundsman and anyone who comes to Park Way can see we have one of the best pitches in the league and to his credit the club now hold Youth and School Boy Internationals. He has also been known to get up and sing a song.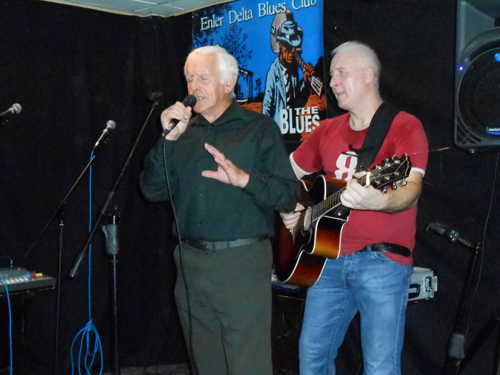 Jackie entertaining friends at the Rec.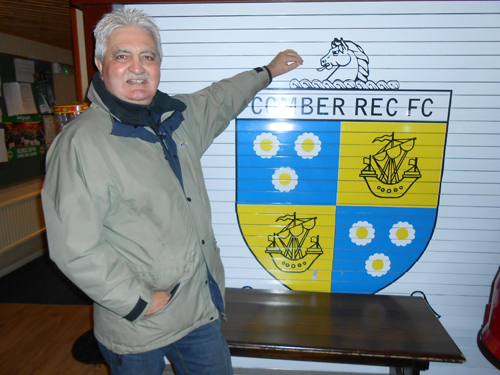 Bobby McGorman is a life member in the club he has played for all four teams at the Rec.
Bobby designed our club badge doing a lot of research into the history of Comber Town and the Rec and the logo on the badge means "Pull Together As One".
To everyone he is better known as Bobby Root and is a great entertainer his jokes on stage would put many a star to shame and if it is in our club or on our trips when he takes the stage everyone enjoys his crack.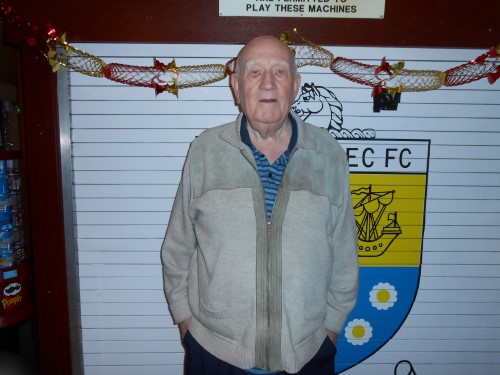 Jack Johnstone better known as Big Jack was one of the members who formed the supporters club in the late 80's
A former Chairman of the main club he seldom misses a game home or away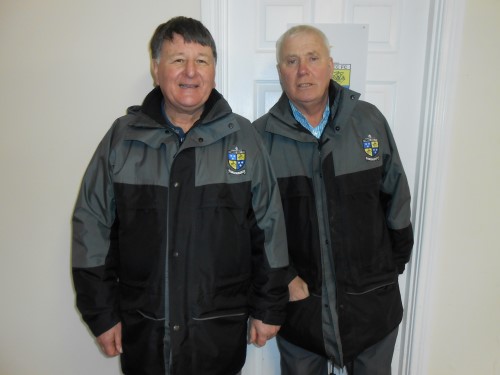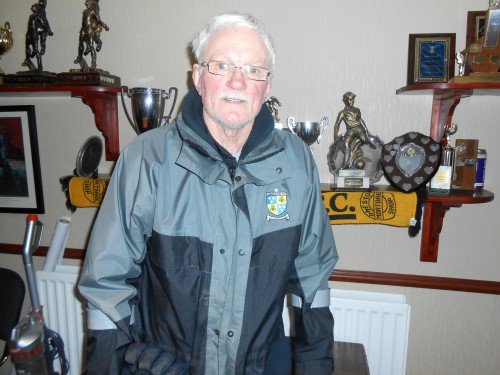 Carl Adair, Eric Nesbit & Jack Robinson work very hard for the club bringing in match day sponsors Carl took this role on over the last few years and we are delighted and thankful with everyone who has supported us during this time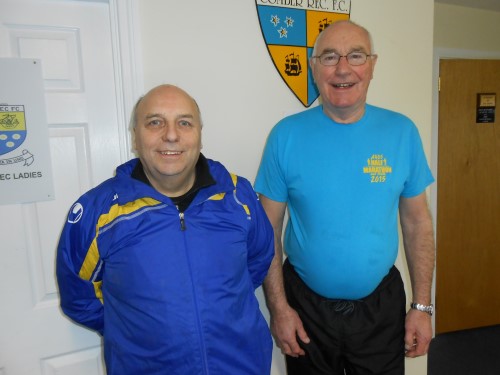 Backroom Team
Sammy Haskins & Derek Lowry are the men who help out on Saturdays. Both have been life long members and players and hold senior positions within Comber Rec F C Derek is President and Sammy Chairman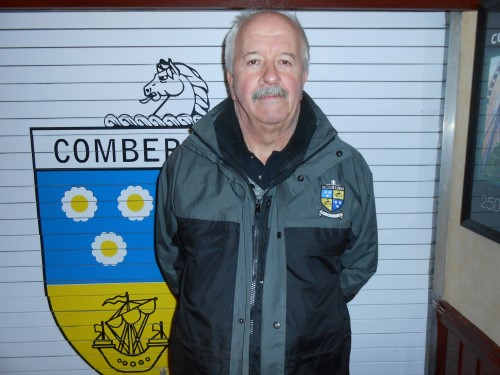 Club Rep
David Carse is our club Rep and helps out with our 2nd team on Saturdays He is another long time member having played for all our teams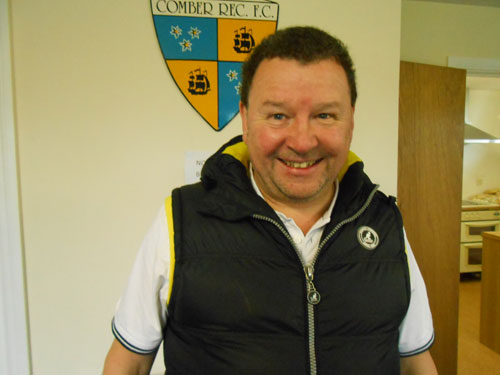 Gary McKibben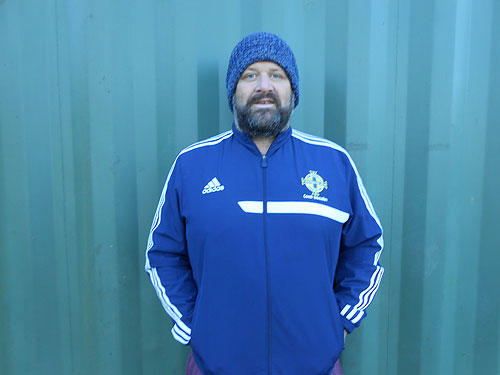 Neil Dines

Neil & Gary have been added to first team back room staff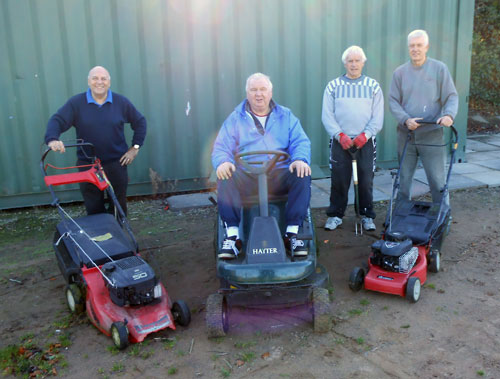 Jack McArthur head groundsman with his helpers L to R Sammy Haskins Ian Davis Jackie McArthur & Ian McKnight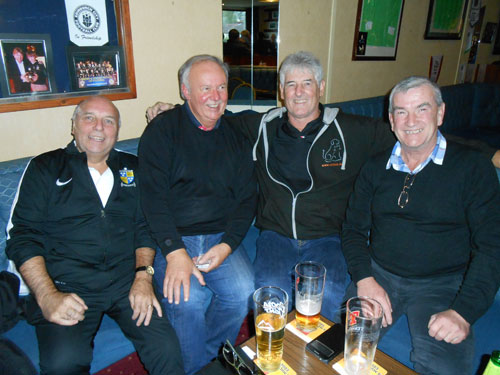 Big 60 Sammy Galway enjoying a drink with his friends Sammy Haskins, Drew Davidson, Len Young home from Turkey and Sammy