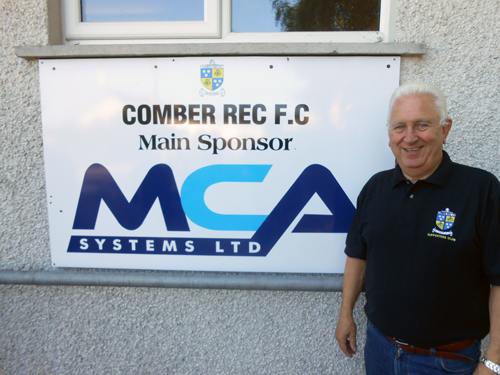 >>

Last Match -

League




>>

Ards Rangers 1 - 6 Comber Rec


>>

Man of the Match - Dillon Wilson
"Congratulations to Rebecca Geddis and Sarah McKillen on their selection to represent Northern Ireland CYP (Clubs for Young People) in this years Rosebowl Tournament, against England, Scotland and Wales. The tournament which is held at the Sportsplex in Bangor, will run from 12th - 15th August 2013.
All at Comber Rec Ladies wish the girls every success."
Comber Rec Supporters Club
Comber Rec Under 15s League Champions
This week (Sat 18th) at Enler Delta BLUES Club we have VOODOO HOUNDS, one of the best harmonica driven BLUES bands in the country. They play very much in the style of The Fabulous Thunderbirds combining great vocals, harmonica, lead guitar and a superb rhythm section. Great 'DANCING BLUES' so come prepared to rock and roll the night away!
Comber Rec as usual. Doors 8. Music 9.30 (sharp) until 1. £5 at the door.

This Sunday 19th we have our monthly BLUES JAM.
Comber Rec as usual. Doors 2.30. Music 3-6. FREE entrance. FREE tea coffee biscuits and sweets for the kids. A great relaxed family day out.

In view of the massive crowd who turned up for AC?DC (thanks to you all) we have decided to make CON JOVI ticket only at £8. Tickets are going fast so please get in touch on the usual numbers.

Thanks again for all your support.
Dear parents and youth team players,
This years awards night is on Friday 24th May 2013,
The awards for all development centre players will commence at 6:30 pm sharp in the Comber Rec club house.
Players and parents from the under 14s, under 15s and under 17s are asked to arrive at 8:00 pm sharp these awards will commence at 8:15 pm.
Light snacks will be available for all players but no meals will be served.

Many thanks to all players , coaches and parents for all your hard work throughout this very successful and enjoyable year.

Many thanks,
Comber Rec youth committee
International match at Park Way

Schoolboys International match at Park Way this Friday the 26 April with Northern Ireland u18s playing New Zealand. The kick off is 2pm.
Sarah Connolly – International Duty Update

Sarah Connolly – International Duty Update

On Wednesday 3rd April Northern Ireland Ladies U15s secured their first 3 points in the Bob Docherty Trophy with a 1 – 0 win against Wales in the morning kick off. The afternoons game saw them take on the Republic of Ireland, the game was a 1 – 1 draw with Comber Rec's Sarah Connolly scoring Northern Irelands goal with a superb finish from inside the penalty area.
Well Done Sarah !



Click on image to enlarge


Comber Rec Under 15 player Captains Northern Ireland

Comber Rec under 15 player Sarah Connolly has recently been selected to represent Northern Ireland ladies U15s following a series of trials and was also given the honour of captaining the squad.
Sarah is currently competing in an International Tournament at the Dub, Belfast involving England, Scotland, Wales and the Republic of Ireland. Everyone at the club wishes her well. Congratulations Sarah!




Click on image to enlarge
Starting on Friday 12th April 2013 for 6 Weeks 6-7p.m.
FINISHING DATE – 17th May 2013
Held at Comber Rec. Football Club, Park Way, Comber
Open to Boys & Girls Aged 5-12 - Only £25 for 6 weeks
Click here for Application Form
All Application Forms to be returned by
Friday 5th April
All associated with Comber Rec youth wish to convey our congratulations to our under 14 captain Timmy Browne,
Timmy has been once again selected to represent the Northern Ireland county Elite squad, and will be playing in a tournament in France at Easter .

Well done Tim Congratulations and good luck.
Comber Rec Supporters Club

Meeting to be held after Saturdays match against Larne Tech
PRESENTS
A Night at the Races
Friday 26th April 2013 @ Park Way, Comber
ENTRY £2
FIRST RACE – 7:30pm
Buy a Horse - £5
(Race Winner wins Bottle of Wine)
Sponsor a Race - £25
½ page Advert in program - £25

To buy a Horse contact: Barbara Anne Geddis - 07 512 590978 ,
Heather McCracken – 07814 345270
, Winky Kerr – 07872 932296
Or email your details to: comberrec.ladiesfc@gmail.com


Country Star Stephen Smyth

Comber Rec have just confirmed that top Country Star Stephen Smyth and his Band will be coming back to the club on Friday 12th April, don't be disappointed get your tickets early. (Last two dances were sold out !!! )


Tickets £10 Contact 07801672597 or 02891872161


Click to enlarge
Combers burger men can guarantee that their match day burgers are 100% beef, and we got this straight from the horse's mouth!

>>>> Find out More <<<<
| | | |
| --- | --- | --- |
| In appreciation of the use of Comber Rec FC clubhouse, Naomi Donnan & Rowen Nihell from Linfield Girls Football Club, who currently train on Monday nights @ 7.00 in Regent House School, Newtownards, presenting match balls to Heather McCracken & Winky Kerr from the newly formed Comber Rec Ladies Football Club who train on Sundays @ 1.00 in Parkway. | ,,,, | Click to Enlarge |
Sunday 17th February 2013 will go down as another day in the proud history of Comber Rec when the newly formed Ladies Team played their first ever game. Although the game itself was only a friendly against Dromore Amateurs, a team currently playing in the Championship, it was a highly competitive game played in good spirit in very windy conditions, conditions which at times spoilt the standard of football which the girls have been showing throughout training during pre-season.
>>>> Read More <<<<

The new ladies section of the website now include team sponsors, news and training dates >>>> More <<<<
Comber Rec Ladies Pre-season Training

Comber Rec Ladies Pre-season will commence on Sunday 20th January 2013 - Park Way between 12pm - 2pm (£3/week) For further details please contact Heather on 07814345270 or Winky 07872932296

We are always keen to see new players- experienced or new to the game!
Under 14s - Lisburn Invitational Youth League Shield Champions 2013

Jim , Michael and Davy would like to take this opportunity to thank Sammy Gibson for organising a coach for some of the supporters to travel and to all of the large traveling support ( over 200) who were our "12th man " especially in the last 10 minutes !. It was a superb win and a great way to start the New Year.

Lets hope this is the first of many trophies that will be coming to the "Wee Rec" this year !
Comber Rec Ladies had their first ever training session on Thursday
8th November under the lights at Park Way. Coaches Winston Kerr and
Heather McCracken where please with the turn out of 14 players on what
was a very cold start, "We seem to have got off to a good start, we've
had 2 sessions so far with good turn outs of enthusiastic and talented
players. We are looking forward to this Thurs (22nd) which will see
the start of the Junior section!"
Ladies Training will be at 2nd Comber BB pitch on Thursdays:
Juniors
(7-13years) 6pm-7pm >>>
More
<<<<
Seniors
(14 years up) 7pm - 8:30pm
We are always keen to see new players- experienced or new to the game!
For futher details please contact Heather (07814345270)
Winky (07872932296)
2011/2012 Season - The Complete Record
A statistical look at the club over the season, including youth and senior club awards / photographs.
Click here to View Stats and Photographs
A View from the Dugout
Match V's Ards Rangers
The season has come to an end and we finished it with a victory to finish 4th. We were still missing several players but the team did its job and produced a good performance I would like to thank my backroom staff and helpers Sammy Haskins Steven Bell Derek Lowry and Lewis Dempster. The players have worked hard all season and the young players are coming along nicely. Our supporters club and supporters have been loyal all year. The chairman and the committee of Comber Rec have gave me their full support and on Friday night we had a great night for our Player of the Year dinner. Finally, I would like on behalf of all at the club wish Rory Carson a speedy recovery and hope he will keep coming down to Park Way.
Eric
There are currently
1 Users Online
Enler Delta Blues Diary